Slink-e / CDJ Discussion Archive #11
Re: User defined toolbar
Posted By: Ian Cole <icole@t...>
Date: 1/9/01 9:31pm

In Response To: Re: User defined toolbar (Ian Cole)
Here's a quick version of what I envisioned from your request - a "remote" style application, with 10 buttons. (The source could easily be modified to support more buttons if anyone wanted more buttons...)
Today, the 10 buttons can be configured to send any HASE command (which includes any CDJ / Slinke / X10 / Text2Speech command) and display an icon (from any .ico, .jpg, .bmp, .gif) and a custom caption. It stores the button settings in the registry. I also added a "display" at the top of the remote to show the current track's info - Artist, album, track, total time, and current time.
I'll post the app's binaries and source code on the HASE site as a sample application when I post BETA 3 in the next few weeks.
This app will require running HASE and Slink-e Socket Server (Part of the HASE install package), but the source could easily be modified to use slinkx, but then you lose all the extra features ;>)
Hope this helps - if you had a different idea, let me know what you were thinking.
Ian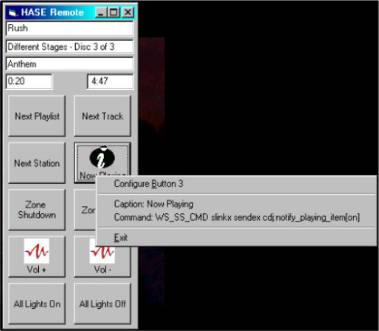 Home Automation Scripting Engine
Slink-e / CDJ Discussion Archive #11 is maintained by slinke-bbs-owner@nirvis.com with WebBBS 3.21.